Handbags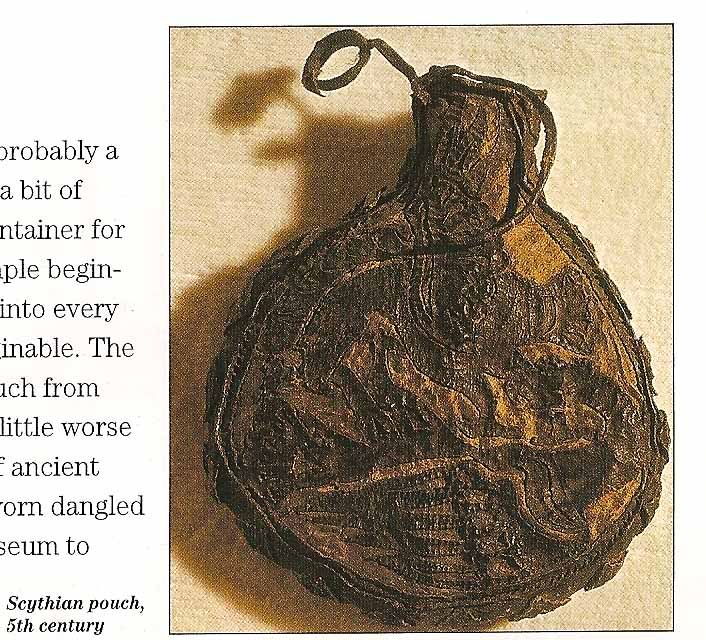 'How the Bag was Born'
'The very first handbag was most likely a fistful of animal skins tied to a stick, a provisional container for food and flint. From these simple beginnings, the bag has blossomed into every form, color, and material imaginable. The earliest bag in this blog, a pouch from 5th century Scythia, is now a little worse for wear. Like so many bags of ancient times, it is a pouch that was worn dangled from the waist. From the coliseum to the Christian Crusades, the drawstring purse was the bag most consistently used by both men and women. The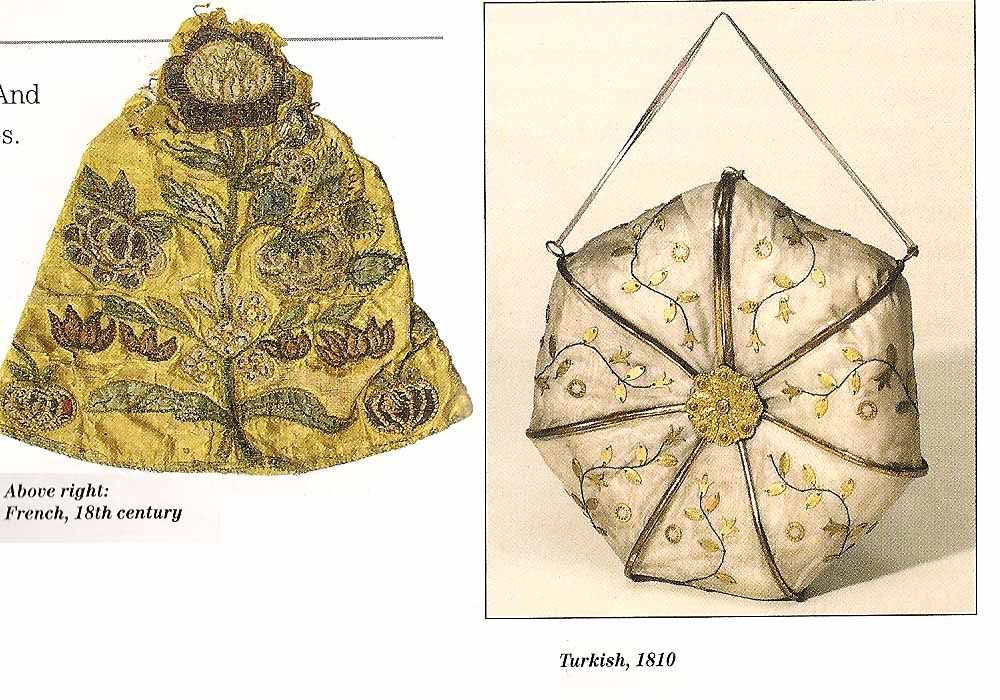 development of a metal frame enlarged the size of the bag and gave it a little more structure, but it was still worn around the waist and hips, especially fashionable on the ornate girdles women wore from the 13th century. Through the middle ages, bags enjoyed androdgyny, set apart apart only by minor variations of ornament and contents peculiar to each sex.
(top, Scythian Pouch 5th Century. left, French, 18th century, rught, Turkish, 1810)
The cult of the tiny embellished bag for the lady of style started with the almoner, a showy coin purse designed to draw attention to public display of largesse. From the beginning small bags inferred class. Big bulky shoulder bags or pouches worn astride the body implied a hard day's work and were for peasants only, as skirts grew voluminous in the 16th century a better solution was found. Pretty pear shaped pockets were worn tied to each hip beneath hooped petticoats. A woman's pocket was not sewn into her dress, whereas the the sewn- pockets that 17-th century men came to depend on did away with the need for a hanging purse or a large fancy wallet.
When the sheer empire-line dress fashion was introduced in Paris in 1790, it gave birth to the handbag.
The reticule was fahion's first act of logic: to take the pocket, put it on a string, and carry it in the hand. The first such external pocket bags were called reticules after the latin reticulum.
BY 1805 Not a woman alive would leave the house without her bag. The first real leather handbag came a little later, when a sturdy tote with handles was needed for travel. Based on luggage, the hand bag of the 1860's was a miniature suitacase complete with lock, key and a ticket compartment within. Unlike a flinsy meash reticule or a decorative coin purse sealed by a string, this new leather bag snapped shut, and for the first time women could carry their things with some degre of privacy. In the 21st century as woman's wealth may be implied by the opulence of her bag but it is never truly revealed. The power of the handbag dwells in solidity, secrecy, and graceful self-containment.' Here are many examples I've found of bags throughout history.
Turkish 1780-1810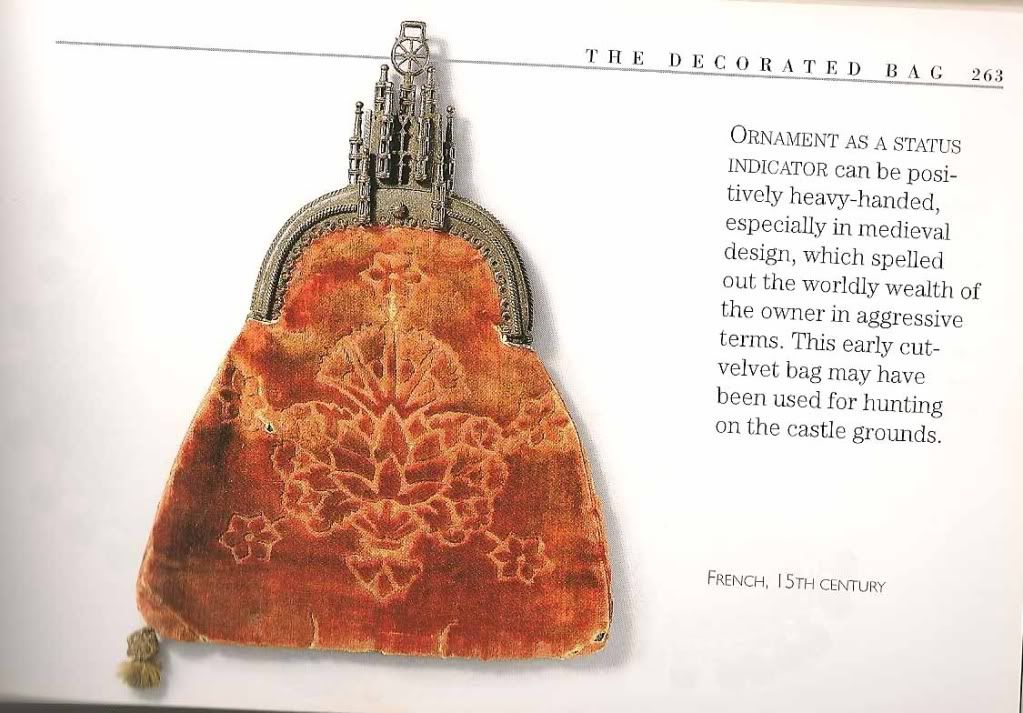 French 15th Century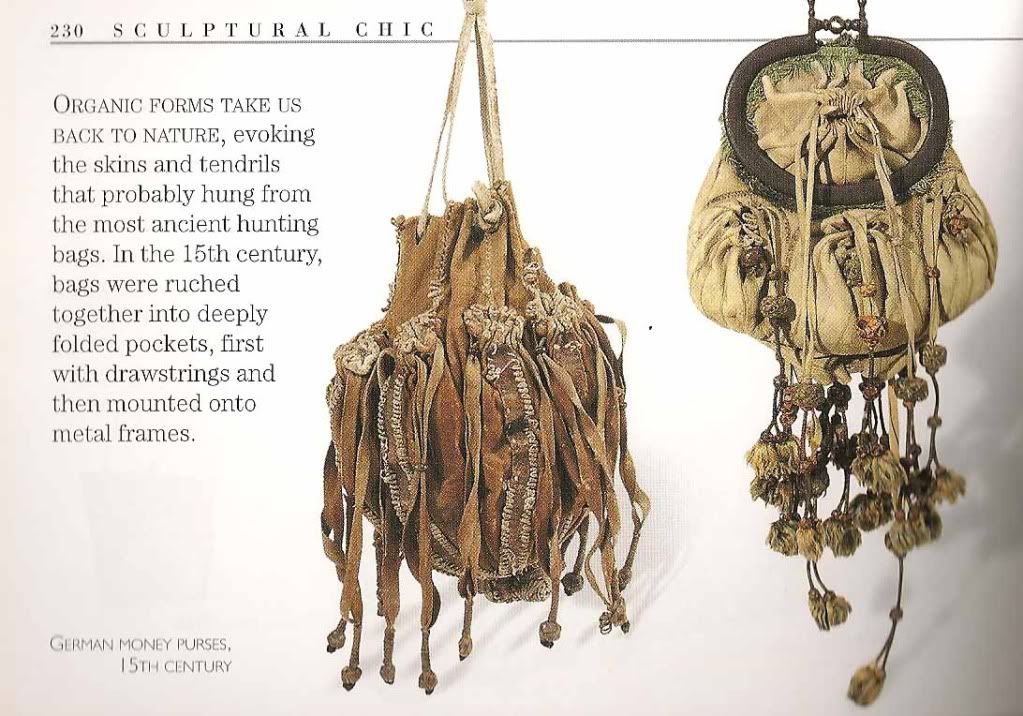 German Money Purses, 15th Century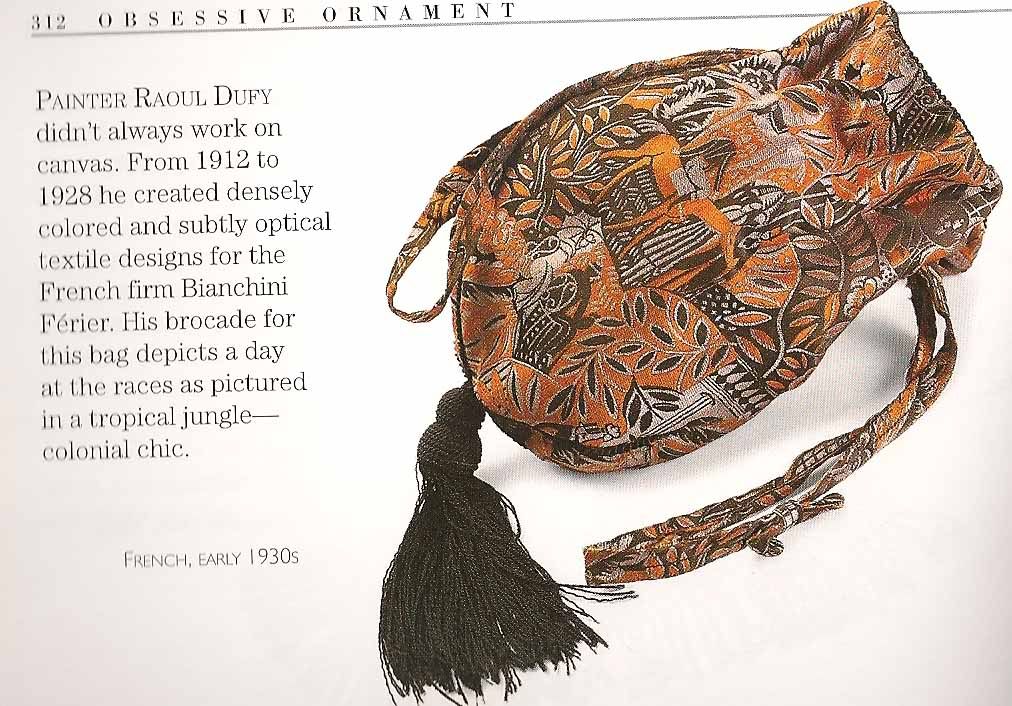 French Early 1930's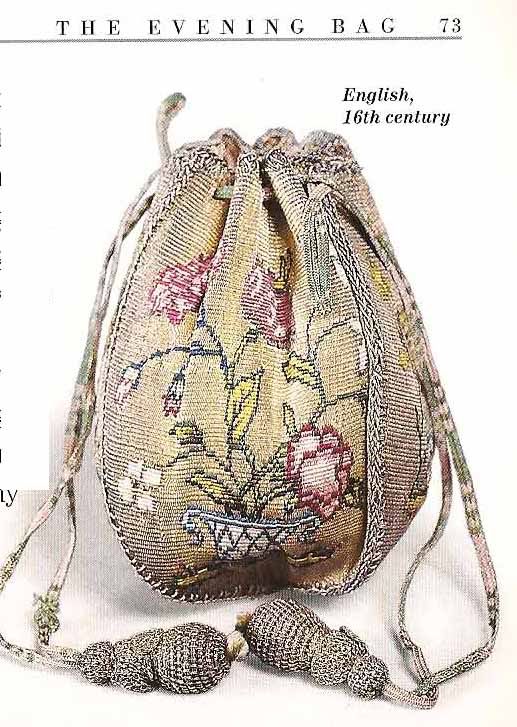 German Almoner 15th century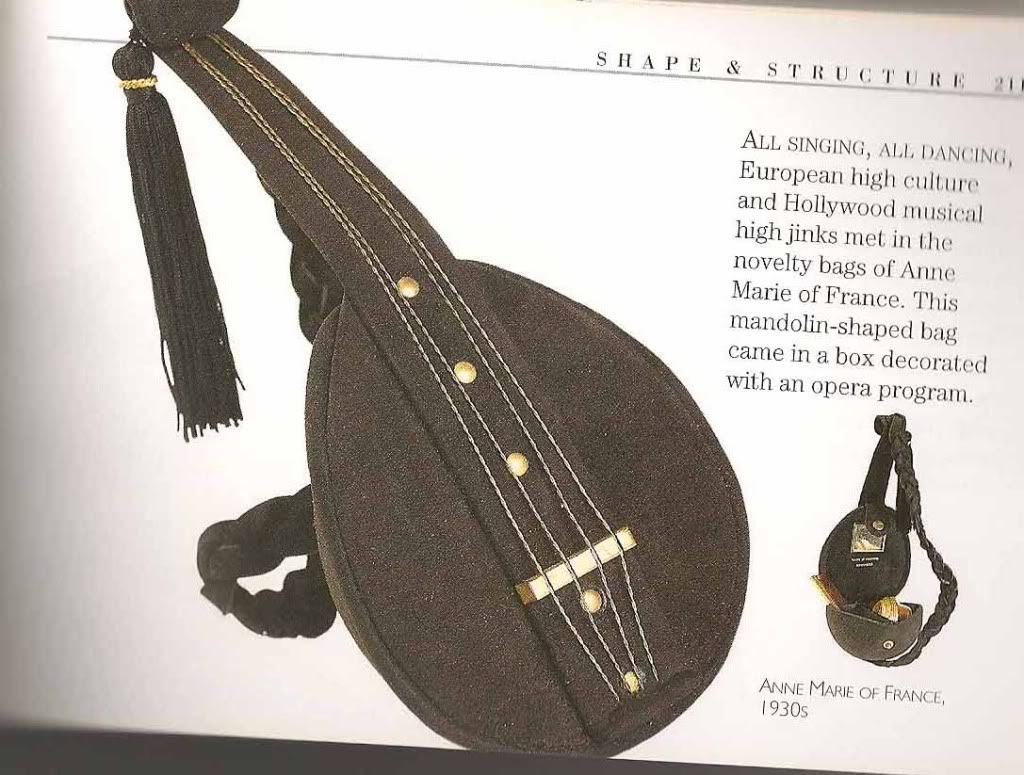 Anne Marie of France, 1930's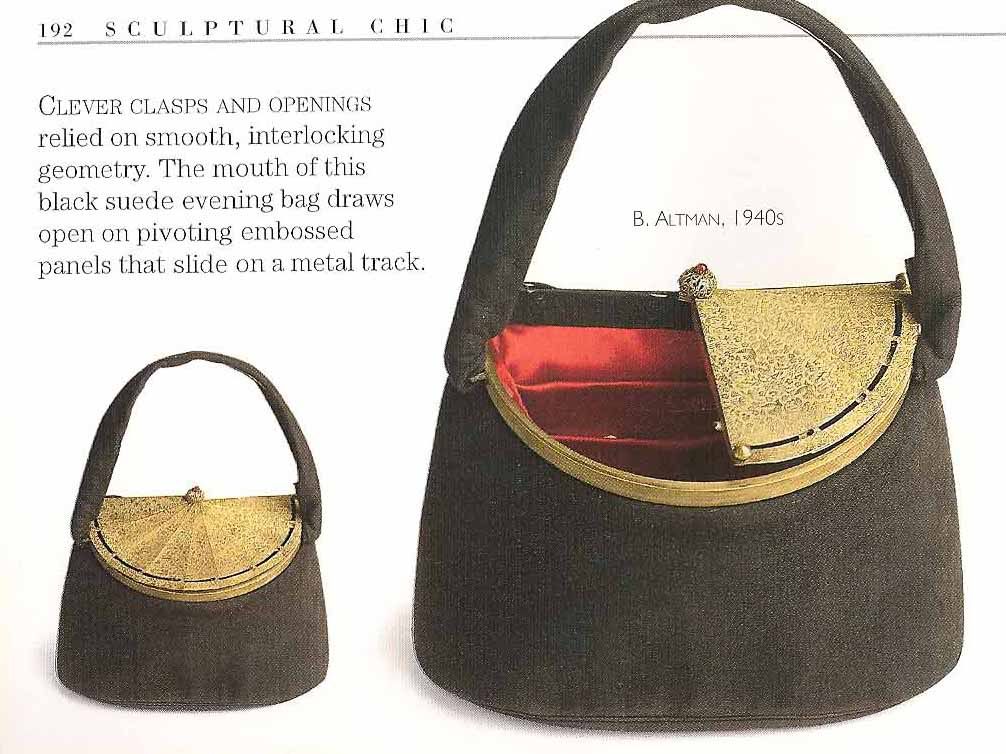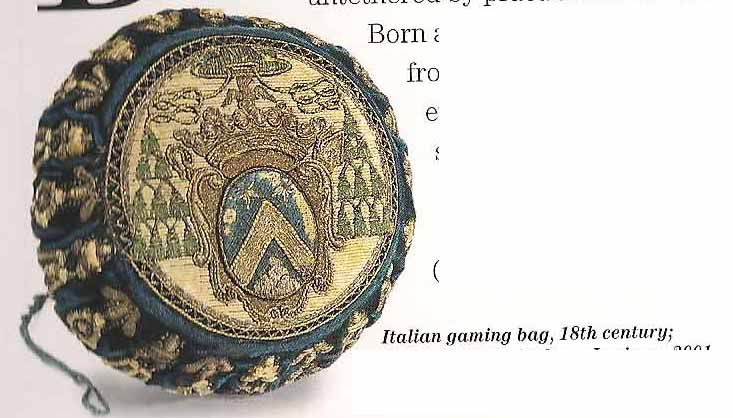 Italian Gaming Bag, 18th Century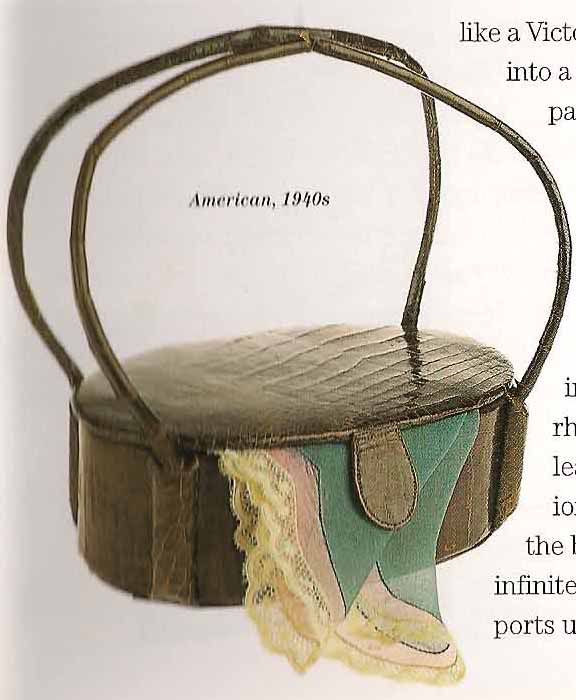 American, 1940's